Wellness Pack: Can be taken as:
3 x individual 45min sessions (tarot or healing), or
1 x Combined 80min tarot & energy session, plus another individual 45min session (tarot or healing)\
Tarot Reading: People often expect a reading to tell them the future. A reading is actually most beneficial when it is used to focus on the present moment, and your journey into the future. When you think what the future might hold for you, you need to also remember that what you do today shapes that future. A reading helps clarify your choices, & gives you an understanding of blocks and patterns. This awareness leads to empowerment, ensuring that decisions made now are the best for a more positive future.
Ultimately a tarot reading is the ideal way to receive guidance and tap into the subconscious where the answers and solution often lie.
Energy Work: Scanning the chakras I intuitively see and feel where there is an imbalance. Identifying which chakra or group of chakras are out of alignment is ususally a good indication of where in your life there is also an imbalance. Describing what I see intuitively, I then work as a conduit for Universal source energy to help bring balance and healing.
Some or all of the these resources can be used during a healing session:
crystals

smudging

essential oils

singing bowl

pendulm

healing drum
How to get the best from your session: Good honest and open conversation is a must as it helps bring matters sitting in the subconscious forward helping you find a pathway from chaos to joy by accessing your own wisdom and trusting your intuition.
Other services
HOME – ENERGY CLEARING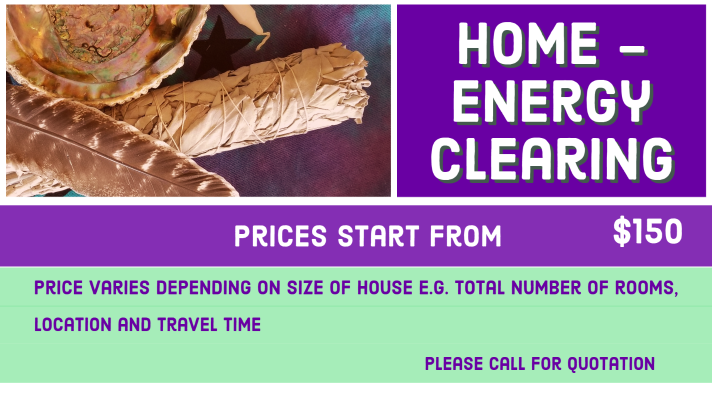 Did you know that your house and all environments hold residual energy? Not only the good times, but also energy from fights, anger, sadness and grief. I'm sure we've all walked into a room and instantly knew in our gut that something just didn't feel right. Perhaps bad news, or a recent argument.
That's residual energy.
An energy clearing is an ideal way to cleanse your home of stagnant, dull and low vibration energy, opening it up to receive fresh, higher and lighter vibrational energy.
It's a ritual that incorporates the use of elements, sound, fire/smoke and crystals to cleanse and purify. Leaving the house peaceful and energetically lighter.
Please call for further information and a quote.
GIRLS NIGHT IN WITH A TAROT TWIST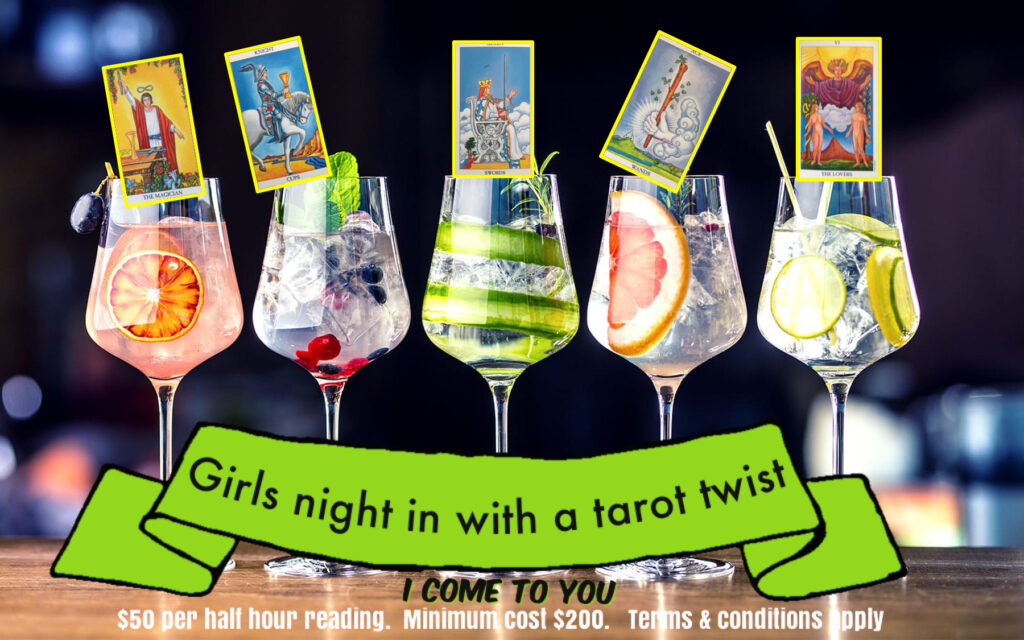 Why not arrange a girls night in; birthday, hens, any excuse really!
Half hour readings @ $50 each per guest,
Minimum cost $200 = 4 guests

6 or more readings and the host receives their reading for free.
Brisbane area, however other locations will be considered. Maximum of 8 readings per booking. Please call for further information.